Defense
Defense is a mode that started in closed beta. It has finally been implemented, but some changes have been made to it so it can be competitive. This mode is unpopular among most people. People only use this for if they need XP or FP.
What a red bee looks like: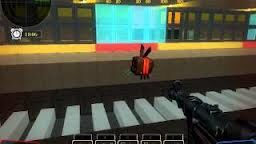 That red bee is what blue team has to shoot, w/o getting killed themselves. It is vice versa for red team, has to shoot the blue one w.o getting killed themselves.
There are also boss bees! There are 4 or 5 of them. They get harder!( If you get to the last bee and you don't have a turrent....... just say its a M.O.A.B!)
Der Defense-Modus ist ein Modus, der seit Closed-Beta in Planung war. Er wurde nun endlich umgesetzet, aber es gibt ein paar Änderungen. Bei manchen Spielern ist dieser Modus unbeliebt, da er meistens nur zum "farmen" benutzt wird, wenn sie Force-Punkte möchten bzw. unbedingt mehr XP haben wollen.
Das Blaue-Team muss die Roten-Bienen abschießen und das Rote-Team die Blauen-Bienen. Kommt ihnen aber bloss nicht zu nahe, da sie euch Schaden zufügen.
Es gibt auch 4 Bösse. Von Zeit zu Zeit werden sie immer stärker.